Maddie Hatfield Shines at Science Competition with Local Sponge Species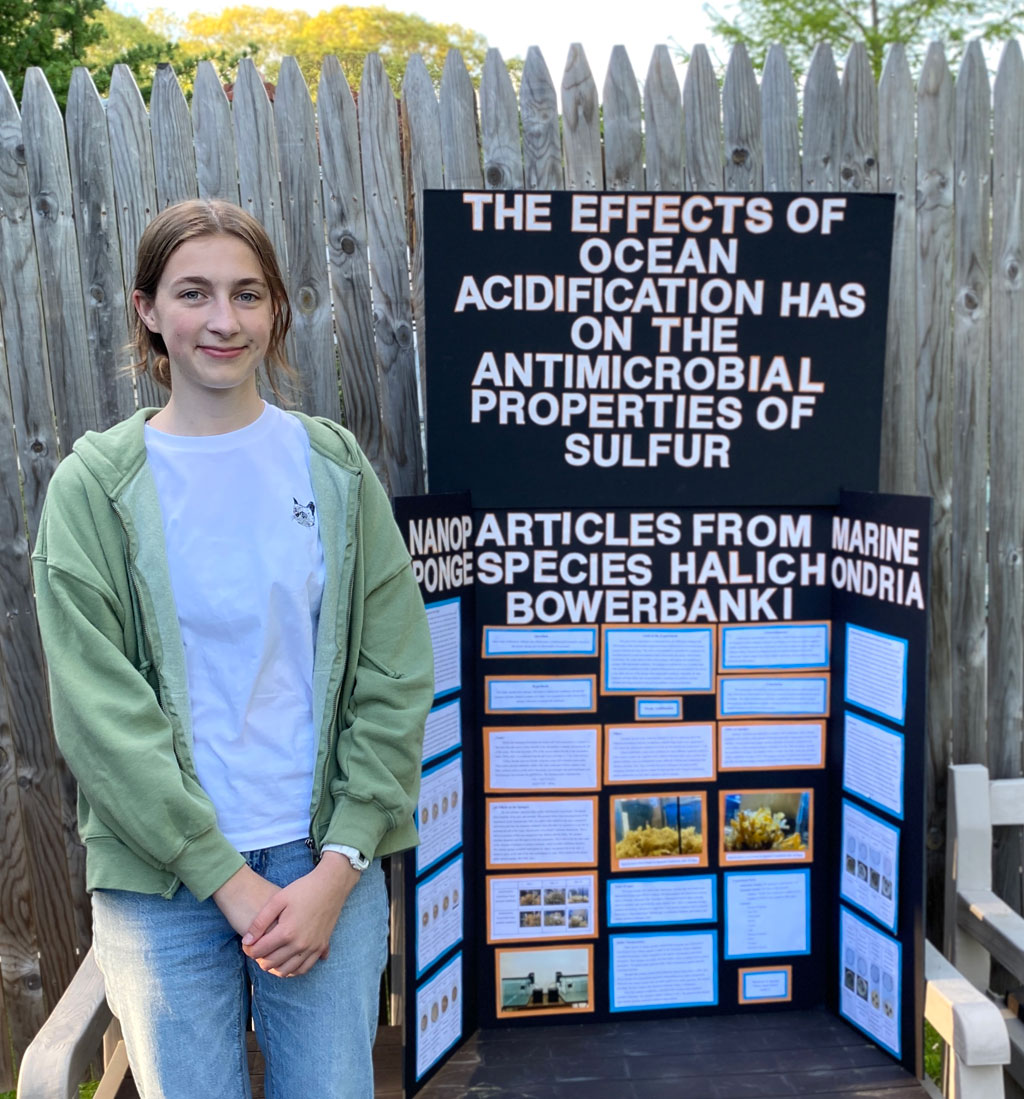 Maddie Hatfield, a Fishers Island School junior and honors Regents chemistry student, with the graphic explanation of her award-winning science project. Maddie's research was made possible with a grant from FIConservancy.
Maddie Hatfield, an honors Regents chemistry student at Fishers Island School, took one of the top prizes at an April 8 Long Island high schools science competition and did it with an unplanned harvest of marine sponges from docks at Pirate's Cove Marina.
When Maddie discovered that a Maine vendor did not have the specific marine sponge she needed for her research, Carol Giles, Maddie's science teacher, came up with a potential solution.
"I had noticed sponges growing on the docks at Pirate's Cove," Mrs. Giles said. "But sponges are difficult to identify because of only slight differences in external features. Maddie obtained a sample of a sponge different from her initial intention, but one she thought might work for her research.
"She extracted and measured microscopic particles and identified the species as Halichondria bowerbanki, exactly what she wanted. I reached out to Connor Jones, former FI Seagrass Management Coordinator, who posted pictures on several marine sponge listservs.
"Over a dozen scientists responded with varying species identification, but two offered to confirm its identity. Dr. Robert Thacker of Stony Brook University verified Maddie's identification, as did Dr. Sergio Vargas of LMU München, the most prestigious university in Germany, who DNA-barcoded the sponge.
"Maddie's four-month science project studying ocean acidification on a specific marine sponge species would not have been possible without Fishers Island Conservancy's grant to purchase two tank coolers and two filtration systems," Mrs. Giles said.
FIConservancy continues to support Fishers Island School through a series of grants, including a 2020 purchase of a fluorometer, which measures phytoplankton density.
Maddie was one of five top students out of 300 finalists at the Long Island Youth Summit, a partnership between Northwell Health, St. Joseph's College, Vision Long Island and other public and private organizations. 
The purpose of the Summit is to engage talented high school students of diverse backgrounds, encouraging them to think about solutions for local and regional problems related to social, economic and environmental issues. The Summit aims to develop the students' research, creative and social skills by allowing them to work together with leaders in business, government and non-profit sectors.
https://www.ficonservancy.org/wp-content/uploads/2022/05/Maddie-Hatfield-Science-crop.jpg
543
1024
Betty Ann Rubinow
https://www.ficonservancy.org/wp-content/uploads/2017/07/fi-Conservancy-logo350x100.jpg
Betty Ann Rubinow
2022-05-20 17:08:55
2022-06-16 00:01:56
Maddie Hatfield Shines at Science Competition with Local Sponge Species