Painted Lady Butterfly Observed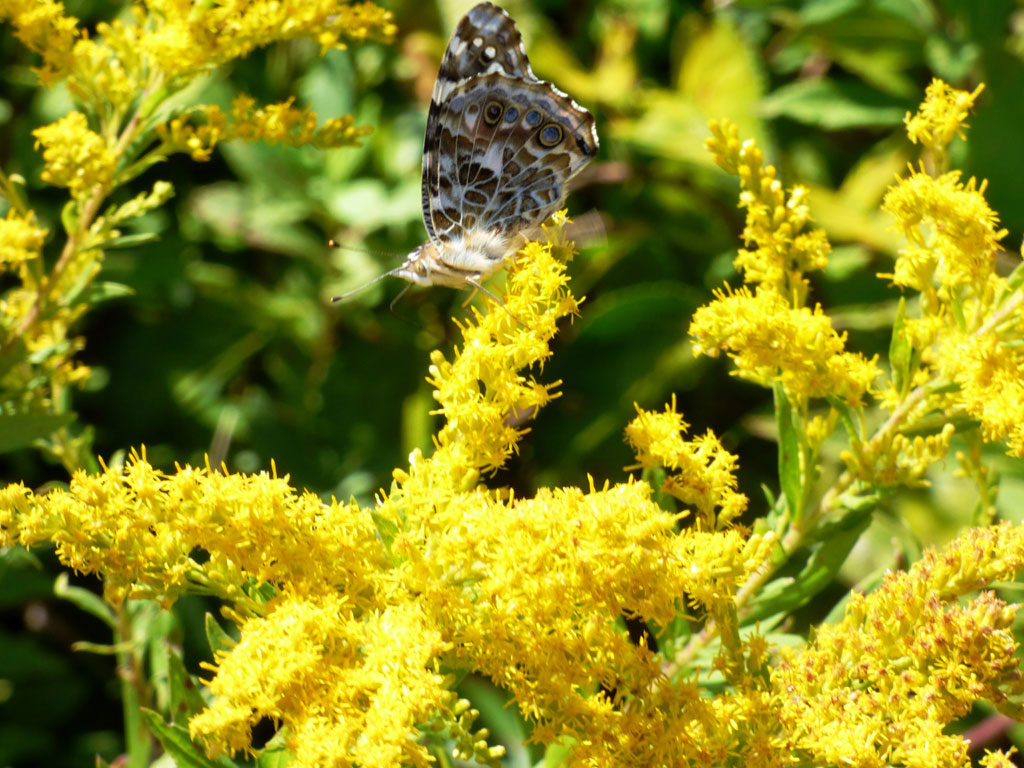 These quiet days of September are perfect for learning more about butterflies.*
Find a bench warmed by the sun within native meadows across from Silver Eel Cove, and you're bound to see just how "social" these brilliantly colored insects are, flitting from one flower to the next.
Some populations gather enough nutritious energy feeding on plants (aster family) within Parade Grounds to migrate south. Others stay behind and overwinter here on Fishers Island.
*The painted lady butterfly is one of the most ubiquitous butterflies in the world and is identified by the shape of its wings and its eyespots, particularly evident on the underside of its hind wings. The butterflies flare with orange when flying and are sometimes mistaken for monarch butterflies.
*According to the National Geographic Society, the two-inch painted lady butterfly can migrate nearly 2,500 miles, starting from Europe, traversing obstacles such as the Mediterranean Sea, North Africa's mountains and the Sahara Desert. Unlike monarch butterflies, chemical signatures in the painted lady wings reveal that they can make the trip in a single generation.
From the Field, Field Note by Justine Kibbe, Sept. 9, 2019
https://www.ficonservancy.org/wp-content/uploads/2019/09/Ladys-Day1.jpg
768
1024
Betty Ann Rubinow
https://www.ficonservancy.org/wp-content/uploads/2017/07/fi-Conservancy-logo350x100.jpg
Betty Ann Rubinow
2019-09-09 09:53:45
2019-09-10 10:12:51
Painted Lady Butterfly Observed